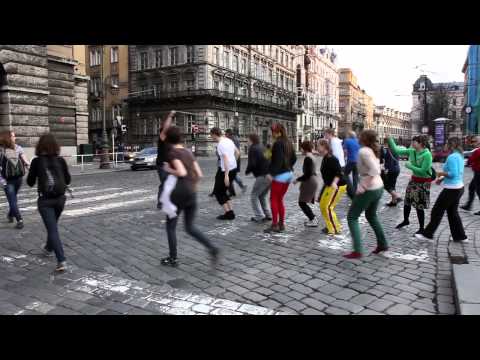 Stream for change a retrospective
Actions and reactions from 5 different countries: 5 creative activist concerned groups came together to bring street actions to street of our towns (Riedau, Austria; Prague, CR; Berlin, Germany; Athens, Greece; Tenerife, Spain, in order to raise awareness, animate our communities and bring good news into our living spaces. Kulturlabor Trial&Error as a part of stream for change realized many...
8 tags
Welcome to the Recycled Creativity Festival
We are organising a big festival with creative workshops, films, discussions and music in the name of Stream for change. We will realize almost all the actions in this big festival in order to reach most people! What can be done if we all come together? Remains of plastic, electronics and paper will be transformed through creative ideas into new useful, funny or simply beautiful items. But...
5 tags
Applauding Recycle bins.- S/C Tenerife.
Applauding Recycle Bins Initiative was designed by participants of five different countries; Czech Republic, Austria, Germany, Greece and Spain, that are joining on a  International project supported by Youth in Action Program, Stream for Change.  The aim of this initiative was applauded people that we found recycling correctly. Also we had to explained others how to do it, or just encourage them...
INDEPENDENT TENERIFE WEEK
This time the Canary group has met for our "Independent week" a visit to some eco-farms and greenhouses in Valleguerra and Tejina. The tour was made thanks to farmers and especially to Manolo from ATARETACO Foundation who guides us. Manolo collaborate on integrating work and legalizing up to 6 immigrants, so as you can see gender equality on the plantation, there is no discrimination....
Watch
Cake invitations and planting action Kulturlabor Trial&Error invited to an afternoon cake session and planting action. Neighbours from the Kiez came and exchanged seeds, while showing people around in their hidden mysterious garden in the old bohemian village in the heart of berlin. Everyone was invited to share with us homemade cakes from local food and vegan cookies also as to plant seeds...
An advance in the Canary Local Products...
Last Sunday, Canary group of Stream for change project participated in the San Benito pligrimage. We dressed us with old tipical Canary clothes and made a cart to share some local products as part of the Local Products Initiative. We share with people local products as bananas, apples and plums. The fruit were bougth it in small local fruit shops and cooperatives practising fair trade. Also we...
Local Greek Fruit!
    It was one of the hottest afternoons to date this summer in Athens with the temperature rising up to 40°C, but a small group of volunteers that could stand the heat did not back down and joined a weekly organic produce market in the area of Nea Smyrni. The volunteers, aiming to record the consumers' habits and opinions regarding organic products conducted a survey with the use of a short...
Athens Critical Mass Ride
You've turned my life into a bicycle" is a Greek phrase which means that someone has made your life difficult. When a team of MEDSOS's volunteers joined the July Athens Critical Mass Ride they proved that cycling in the city can literally make your life easier! The Athens Critical Mass takes place in the early evening of the first Monday of each month. Cyclists gathered in Syntagma square which...
Green tour in Plato's Academy
Herb Plant Workshop!
Canary volunteers, of Isla CreActiva Association, who are joining in the Stream for change project have made some films of the Herb Plant Initiative.  During the Herb plant day they made and filme some workshops that now are available to watch them in next link. We want everyone who would like to participate can use the video to try the workshop by themselves. First link is a summary that shows...
Carmen's Ecological footprint.
The ecological footprint is a measure of human demand on the Earth's ecosystems. It compares human demans with planet Earth's ecological capacity to regenerate. Ecological footprint Action will be made in five countries. Specifficaly, the Action will take place in Tenerife, an Spanish island with an area of 2034'38 square kilometers and 908555 inhabitants. The Action is based on...
Watch
On 26.04.2012 a group of Prague dwellers brought together their eagerness, shovels and flower bulbs to give a sprightly makeover to an abandoned piece of land and a forsaken, grey wall found amidst high-rises estate. Younger, older, and completely small; Czech and foreign; representatives of different occupations and genders came together on this sunny day with a common goal: to change an ugly...
Colorise the park event, Athens!
On  Saturday the 28th of April 2012 more than 20 friends and volunteers of the MEDITERRANEAN SOS Network (MEDSOS) got together in the Pedion Areos Park, one of the largest parks of the city of Athens, to help clean and improve the look of the park! before… …after In particular, they cleared an area where lilacs had been planted, of weeds and other plants so as to give the flowers...
Zahradní slavnost or the metamorphosis of one ugly... →
4 tags
What is it all about?
You could think we don't live in very favourable times. A young European is surrounded by news of climate change, economic crises, unemployment, upcoming crashes of financial systems, wars and famine in the world, atomic threats, terrorism… This is hardly the brightest setting for a growing up person that has to make important choices about their future. In the same time, the image of a...
2 tags